One of the Caribbean's best dive destinations is also its best-kept secret. Not far from Anguilla's iconic shores, a small, 5-square-mile volcano rises from the sapphire sea. This is Saba, a former Dutch colony that is all but isolated from the outside world. With rich marine life, little outside pollution, and a steep drop-off, Saba truly lives up to her nickname of "The Unspoiled Queen of the Caribbean." Take a step back in time and a plunge into another world when you dive this incredible destination!
Getting to Saba
To be honest, it's not simple or cheap to get to Saba. If you want a convenient destination, you're better off staying on nearby Saint Martin! However, Saba offers a unique experience and one that isn't enjoyed by those who aren't willing to go the extra mile. Stay on Saba, and you'll beat the crowds!
To get to Saba, you have to fly to Saint Martin. Currently, Saint Martin is the only gateway to Saba, unless you want to take an expensive private island hopper plane. However, the trip from Saint Martin to Saba isn't too bad or too long. The ferry ride over is about an hour and a half, and along the way, you'll see flying fish and perhaps even a whale.
Your first few moments on Saba might not seem particularly impressive. There's no beach, and the port isn't very attractive. But as soon as you begin the steep drive up the island's only road, you'll find yourself ascending through quaint island villages and a verdant rainforest that sweeps majestically to the sea below!
Diving in Saba
There are three dive companies located on Saba, and any of them can give you an excellent experience. Diving Saba is much different than diving any of its shallower and sandier neighbors! The volcanic island plunges steeply beneath the surface, giving you the opportunity to explore any depth you wish.
Saba boasts beautiful, healthy coral reefs. The absence of beaches on the island has kept away tourists with their destructive flippers, grabby fingers, and toxic substances. There is almost no shoreline development on Saba and very little pressure on the marine ecosystem around her.
Because of Saba's unique makeup, you'll get the chance to see rare marine life! Visibility around Saba is excellent, and underwater lava flows offer exciting dive sites. The dramatic depth around Saba makes it possible to see hundreds of species in a small space! Even pelagic creatures are often seen near the island. You'll have a good shot at a shark encounter, too, and many divers see turtles calmly feeding or rays gliding through the water.
Other things to do on Saba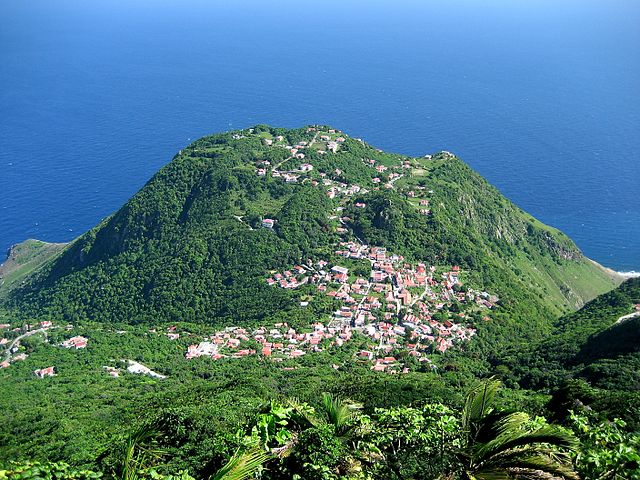 Your Saba fun doesn't have to end with diving! Although the island is small, there are other interesting excursions to enjoy. Take the famous hike to the top of Mount Scenery, which is the highest point in the Netherlands! This breathtaking view of the rainforest and sea is unforgettable. You can also take any of the other trails on Saba—the only mode of transportation besides The Road. Or, hang out in one of the historic Dutch colonial towns to learn about the culture and history of Saba.
Although Saba is an unconventional Caribbean dive destination, it's one of the most incredible! It is one of my favorite places in the world, and I'm sure it will be one of yours, as well. Put it on your bucket list! You won't regret it.