The Bahamas boast some of the best diving you can find! This region has the third largest barrier reef in the world, and it is filled with fantastic marine life.
One perk of diving the Bahamas is that it includes nice, shallow dives as well as exciting dives at the drop-offs and several blue holes. Anywhere you go, the water is warm and the visibility is excellent. You can see at least 150 feet year-round!
The Bahamas offer a beautiful display of diverse wildlife. You can see dolphins, rays, and even sharks when you're diving! There are a variety of sites you can choose from, ranging from dives right from the beach to exploring deep wrecks.
Beginner dive destinations in the Bahamas
For an incredible beginner dive, head to Abaco Islands. Coral Caverns is a great place to see the Bahamas' wonderful wildlife on display while still taking it easy. In fact, this is a popular tour dive location, and you can join a discover dive without a scuba license.
If you want to see a wreck, Sapona is an ideal beginner dive. This boat is half-submerged off the coast of Bimini, and it's been there since 1926! Check out the little creatures that have created a thriving neighborhood on and around the boat. The water is shallow, but there is a lot to see!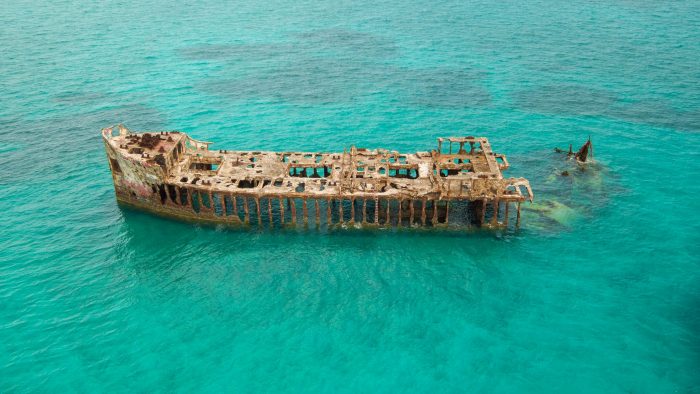 Advanced dive destinations in the Bahamas
The island of Andros features a deep dive location with a 185-foot drop. This is an awesome place to see large marine life up close! Even at such a depth, the visibility is great. Another excellent dive site for experienced divers is Great Cut in San Salvador. This incredible site is a huge chunk of coral reef filled with swim-throughs, large coral structures, and hammerheads.
Unusual dives in the Bahamas
Visit Grand Bahama Island to experience a shark dive with UNEXSO! While there are a lot of shark-feeding dives out there, this one is different because the sharks are actually fed by hand. If you want to connect with sharks, this is the way to do it.
If you want a roller coaster experience with your dive, you won't want to miss Washing Machine at Exuma Cays. The tide here sucks divers into its furious rush as it flows at up to 3 knots an hour off an underwater ledge and around a bend! This is a can't-miss experience for the adrenaline junkie.
https://www.youtube.com/watch?v=fkkY8KKuIxg
video: Washing Machine Exuma
Other Things to do in the Bahamas
When it's time to step out of that wetsuit, there's plenty to enjoy on land! It's not hard to see why the Bahamas is a premier vacation spot. Enjoy relaxing on the sunny beaches, take a tropical hike, or explore a historic area. And of course, you can't miss a swim with the pigs at Exuma's most famous beach!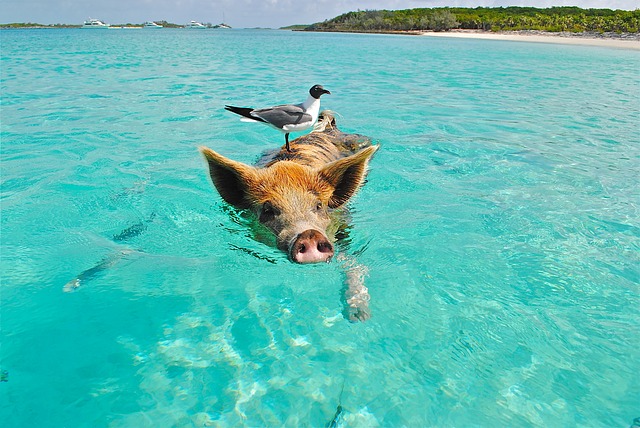 You could spend a lifetime on the islands and never see everything!
If you want to enjoy a beautiful dive destination with all the bells and whistles, the Bahamas is the place to go! Divers of any level will have the chance to see amazing sites, and everyone will be sure to have fun when it's time to resurface. Your only problem will be deciding which sites to choose!